As you probably know, Winloot gives away a guaranteed cash prize every single day.  As a thank you to our wonderful loyal players, we've increased this prize from $100 to $250 effective immediately.  That's right, someone is guaranteed to win $250 cash every single day on top of the prize matching number prizes.
Wondering how you are entered?  You get one entry for every correct number you match on games one through fifteen.  We've added a handy dashboard which will display entries from the prior day near the top right of the game board screen (see below)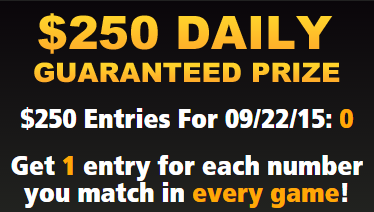 The more games you play, the more numbers you could match and the more potential entries you can receive so be sure to play as many games are you can towards this daily $250 cash prize.  What would you do if you won this daily prize?  Tell us what you think below.
Thanks for playing Winloot sweepstakes and good luck!