Winloot.com would like to take a moment to celebrate one of our biggest winners ever!!!
Congratulations to Cindy M. of Norwalk, California who won $25,000 CASH on May 23rd, 2018!!!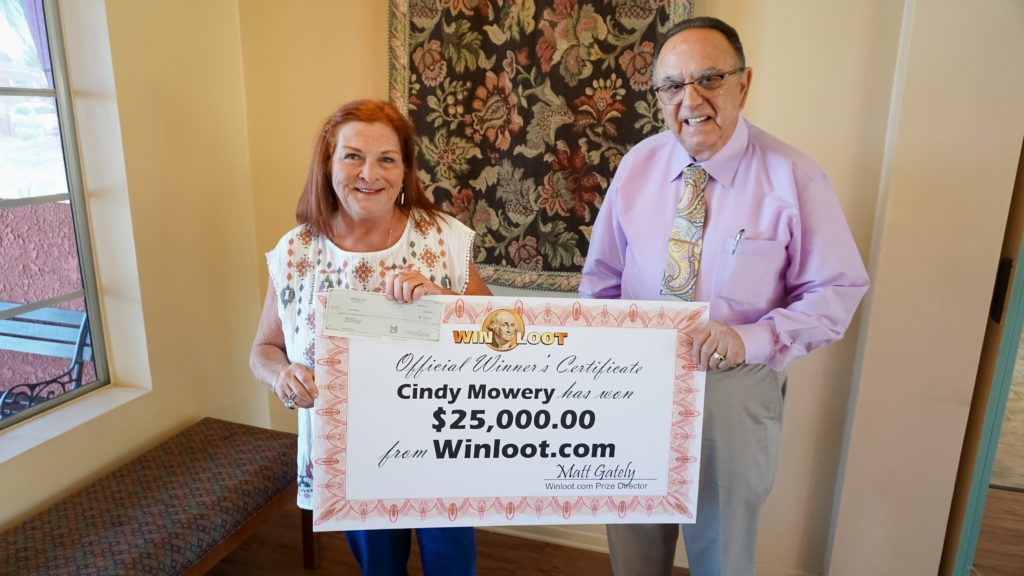 Cindy had previously won $12 Instant Cash back in 2017, but this $25,000 Cash Prize is a HUGE!!!
Cindy has been playing for about a year and a half now and she reports that the money comes at a perfect time to help her pay down bills and look for a new place to live.
And because this was such a momentous occasion, Cindy was joined by local Norwalk City Council Member (and former Mayor of Norwalk) Luigi Vernola (pictured holding the check with Cindy.)
Cindy was extremely grateful and humble and kept insisting that this prize was "of God."
Now get 65 chances to win $5,000 instantly each day. You'll get 40 chances to win after completing ten daily drawing sweepstakes and then another 25 after completing the remaining daily draw games. With more chances to win, we expect to see a lot more winners. Pick your numbers and get those entries in. You may be our next $5,000 instant winner!
Winloot is a 100% free and easy to play sweepstakes site. We offer thirty daily drawing giveaways with prizes going up to $10,000 a month for life, sixty-five chances to win $5,000 cash instantly and a guaranteed $250 prize awarded daily. On top of that, you can use your Winloot tokens for entry into a number of bonus giveaways like cash, gift cards, home electronics and more.